Policy and Public Affairs Manager
Policy and Public Affairs Manager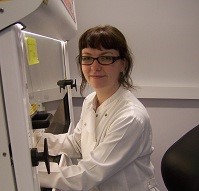 Zoe
working in the lab during her PhD
My role includes working on science policy issues relevant to biotech and helping with communications to our members and the public. Zoe
So, what ​do you do? 
I work for a trade association for organisations involved in UK biotechnology. My role includes working on science policy issues relevant to biotech (funding, regulation, intellectual property, skills etc.) and communicating our position on these issues to policymakers through briefings or organising discussion events with industry members, for example.
What does your ​typical day involve? 
It varies between computer-based work, assisting our advisory committees, keeping in touch with our member companies, going to policy meetings and events like political party conferences. 
Do you work mostly on ​your own or as part of team? 
As part of a team – with colleagues in public affairs and policy, regulatory affairs, communications, events and business development.
How long have you be​en in your current role? 
About a year.
​Why did you decide on a career in the pharmaceutical industry?  
I didn't have a long-term plan; one step just led to the next. I chose my undergraduate degree because I always enjoyed biology, and that led to a job and then PhD relating to human pathogens. Knowledge of microbes, molecular biology and immunology gave me a link to biotechnology. I like the applied aspect of biotechnology – applying the science to develop novel biological medicines or cell therapies, or even synthetic biology approaches to producing chemicals or fuel. My policy placement experience during my PhD was really interesting and prompted me to leave research and step into science policy and communication. My first role, at the trade association where I currently work, was in policy and communications, and it has shifted in my current role more towards policy and government affairs.
​What qualifications and experience did you have when you entered the industry?  
I first gained a degree in Applied Biology (University of Bath) including an industrial placement at a large pharmaceutical company. I then spent 2.5 years getting experience in molecular microbiology at the Health Protection Agency (now known as Public Health England) researching tuberculosis and C. difficile. I also have a PhD in molecular microbiology (University of Bath) during which I did a three-month science policy placement with the Parliamentary Office of Science and Technology (sponsored by my PhD funding body, the BBSRC). 
​Do you think additional qualifications or experience would be an advantage for someone entering the industry now? What might be valuable?  
In industry I think experience is perhaps more important than academic qualifications. I know my undergraduate placement year definitely helped me to get my first job after university. Even a short summer placement is good. More options are opening up for apprenticeships now, which I think could be a great way into the industry.  
​What is it like socially where you work? 
Friendly colleagues, with an occasional drink after work. 
​What are you most proud of in your career?  
Working with parliament was not something I ever thought I'd do (I just took the opportunity to apply when it landed in my inbox!) so showing my family around the Houses of Parliament was a proud moment. And getting my PhD – just due to the fact it was a long hard slog. 
​What possibilities are there for your career in the future?   
I could choose to keep a role in both public affairs and communications, or to focus more on either one. Companies, medical research charities and academic institutions can all have variations on those types of roles. With communications experience I could perhaps focus on science writing, social / digital media strategies, or public relations around science issues. With the experience of working for a membership organisation, I could possibly move across into a business development or events management role.
​What do you think are the most important skills for someone in your role to have? 
For an organisation like a trade association, a real interest in the industry they're representing. For communications, knowing how to write for different audiences, and for public affairs, an interest in influencing the policies that affect the sector. 
​What one piece of advice would you give to someone seeking a career in the pharmaceutical industry? 
Get some lab experience outside of academia, even if it's only for a few weeks. Chat to people there about their jobs and career paths, and ask if you can get a taster of different skills that interest you - this could be anything from bioinformatics, communications, business development, manufacturing to imaging.
Last modified: 20 September 2023
Last reviewed: 20 September 2023