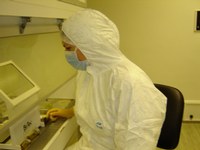 Rachel
Nuclear Medicine Physicist
I am proud of the fact that I can make a difference to patients' lives. Rachel
​​So, what do you do?
I provide medical physics support to the development of new imaging agents throughout the preclinical, clinical and post-marketing phases. The key responsibility is the scientific and technical support of clinical trials of new diagnostic radiopharmaceuticals and Positron Emission Tomography (PET) agents being conducted in Europe and Asia.
What does your typical day involve?
A third of my time is dedicated to travel. In fact, in 2006 I made 50 trips! On a typical day, I would fly to a European destination where I am usually met by a colleague living nearby. We will travel to the hospital together where we'll meet various site personnel including doctors and physicists. I will guide the team through what is required of them in terms of the technology aspects of the clinical trial. I will supervise most of the day's activities including Investigational Medicinal Product (IMP) preparation, dosing and patient scanning.
How has your career developed since you entered the industry?
I have more responsibility. I now lead the technology team on one of our Phase I projects.
What qualifications and experience did you have when you entered the industry?
I have a BSc (Hons) in Physics with Medical Physics. I then went on to become a trainee clinical scientist within the NHS.
The training scheme involved two years in-service training, incorporating an accredited MSc in Medical Radiation Physics, leading to the Institute of Physics and Engineering in Medicine Clinical Science Postgraduate Diploma. The training had an emphasis on acquisition of knowledge and basic practical training. It consisted of substantial periods of attachment in three major subject areas namely Nuclear Medicine, Ultrasound and Radiotherapy, together with shorter acquaintanceship periods in a number of other specialities within Medical Physics and Clinical Engineering.
Do you think additional qualifications or experience would be an advantage for someone entering the industry now? What might be valuable?
Many colleagues within my group have PhDs. Therefore, a PhD would definitely be advantageous.
What possibilities are there for your career in the future?
It may be possible to undertake a PhD on part-time basis. There are lots of opportunities to take various courses within the company including management courses.
Why did you decide on a career in the pharmaceutical industry?
When I finished my training within the NHS, I decided that I wanted to work within the nuclear medicine field. The role as a nuclear medicine physicist was advertised and it just happened to be within the pharmaceutical industry.
What is it like socially where you work?
Not great to be honest. People work long hours and most of my colleagues travel many hours to get to work. So my social life doesn't start until the weekend!
What are you most proud of in your career?
I am proud of the fact that I can make a difference to patients' lives
What do you think are the most important skills for someone in your role to have?
Scientific, technical and people skills are very important!
What one piece of advice would you give to someone seeking a career in the pharmaceutical industry?
Get a PhD in a relevant subject!
Last modified: 20 September 2023
Last reviewed: 20 September 2023