Medical Director and Managing Director UK & Ireland
Medical Director and Managing Director UK & Ireland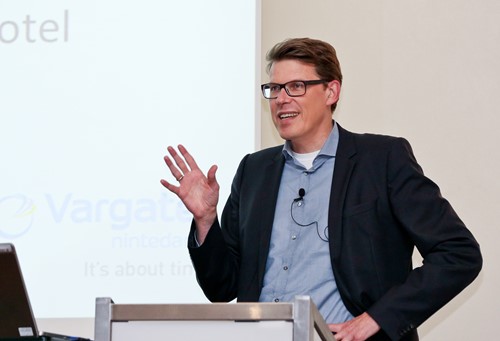 Klaus
Medical Director and Managing Director UK & Ireland
In my role as Country Managing Director all heads of functions and businesses (Prescription Medicines, CHC, Animal Health) report to me. Klaus
What do you do?     
Medical Director with responsibility for Medical Affairs, Pharmacovigilance, Regulatory Affairs, Quality, Clinical Operations, Data Management &Statistics. 
What qualifications and experience do you have?          
Medical Doctor, board certified as internist and endocrinologist in Germany, diabetologist, GMC registered; 14 years in pharma industry.
What does your typical day involve?        
Many meetings, either as part of decision making bodies or 1:1s. Doing emails, reading literature, meeting customers.
How has your career developed since you entered the industry?
Started in dual role as local study manager for a Phase IV trial in Germany and global responsibility to translate pre-clinical diabetes pipeline into clinical research. July 2006, assumed role as Therapeutic Area Head Metabolic Diseases, July 2008, assumed role as Global Head of Medical Affairs, January 2010, assumed role as Global Head of Medicine, later followed with Chief Medical Officer title. August 2015, assumed role as Medical Director UK & Ireland.
When did you decide on a career in the pharmaceutical industry?      
In July 2002
Do you work mostly on your own or as part of team?   
As part of a team.
What is it like socially where you work?  
Excellent cross-functional collaboration and team spirit!
What are you most proud of in your career?       
Having set up our clinical diabetes therapeutic area, I was proud to see that one of our medicines was the first to be shown to provide a mortality benefit in a dedicated CV outcome trial in patients with type 2 diabetes.
Do you think additional qualifications or experience would be an advantage for someone entering the industry now?
Yes, absolutely. Diversity is a key to success and this includes diversity in background, experiences, skills, etc.
What possibilities are there for your career in the future?        
Managing Director of another country or go back to Corporate for a cross-functional leadership role.
What do you think the most important skills are for someone in your role?  
Communication skills, emotional intelligence.
What's the biggest difference between working in academia and the pharmaceutical industry?    
Greater team spirit as everyone strives for a common goal and much greater variety of career options and experiences. No routine factor in pharmaceutical industry.
What one piece of advice would you give to someone seeking a career in the pharmaceutical industry?      
Be a team player.
Last modified: 20 September 2023
Last reviewed: 20 September 2023