I project manage the implementation of new computer systems or upgrades to existing systems that support our clinical trial management processes. Adam
What does your typical day involve?
There isn't a typical daily pattern although I spend probably half my time chairing meetings either face-to-face or moreover now through teleconferences as the project teams span the UK, US, India and other countries. I spend the rest of my time project planning, monitoring project progress, managing key risks and issues and supporting individual staff.
Do you work mostly on your own or as part of team?
I always work as part of one or more teams. As a project manager I'm typically leading project teams. This will involve business users, change managers, analysts, technical staff, testers, service management, procurement, legal, vendors – not forgetting the senior management sponsoring the project that provide governance for the project.
How long have you been in your current role?
Approximately four years
What qualifications and experience do you have?
I have A-levels in Chemistry, Physics, Biology and General Studies. I also had to do a mathematics course to support the science subjects but without any formal qualification.
I have a degree in 'Chemistry with Study in Continental Europe' from the University of Bristol. As part of this four year degree one year was spent studying at the École Nationale Supérieure de Chimie et de Physique in Bordeaux, France.
I have a PhD in Physical Chemistry from the University of Bristol. My research focused on the structure and dynamics of liquid crystals primarily using neutron scattering.
I have a MSc in Information Management from Brunel University. I studied for this part-time as part of the company's IT Graduate Development Programme.
When and why did you decide on a career in the pharmaceutical industry?
Whilst I was doing my PhD I was looking for a career in a science-based organisation but didn't want to stay in a pure research role. Most of my PhD involved computational modelling so I looked for IT graduate roles within multinational pharmaceutical and chemical companies.
How has your career developed since you left university
I joined the IT Graduate Programme and during the first three years undertook a variety of IT roles at different sites across our different business; working as an information analyst supporting a regional sales force - as a data architect again within our sales and marketing company, as a business analyst with our bioinformatics research group, as a technical support analyst in manufacturing and finally as a junior project manager supporting the research and development (R&D) commercial analysis group.
Over the last eight years I have focused on IT project management for the clinical and regulatory R&D business processes. The number and complexity of projects has increased over those years. I am now an accredited Project Management Professional with the globally-recognised Project Management Institute.
During the last few years I have also line managed several staff and recruited both industrial placement students and graduates. I also mentor new project managers.
Do you think additional qualifications or experience would be an advantage for someone entering the industry now?
If you want a career in IT management then an IT-related degree is very helpful. A science background also gives you more credibility in research-oriented organisations. Soft skills (such as leadership, team-working, communication and problem-solving skills) are as important if not more important though so make sure you develop these.
What is it like socially where you work?
It is pretty good although my one hour travel and two young children don't leave me much time for evenings out! In the past few months we had a volunteering day that I organised that had 25 of us digging up a park to plant a wild meadow, putting up bird boxes etc., followed by a curry. And last month we had an inter-site sports fun day followed by a barbecue.
What are you most proud of in your career? 
Delivering the last project successfully. It cost about £1.6m, took three years and was rolled out to over 2000 users. I drove the project right from the start and although we had some teething issues with the initial go-live this is now realising real business benefit.
What possibilities are there for your career in the future? 
Whatever I want although personally I like the company I'm with. Being a multinational company I could take up project management positions elsewhere, step up to programme management where I am or do secondments to other roles.
What do you think are the most important skills for someone in your role to have?
Communication and team-working / team-leading skills. As a project manager you need to inspire people to work together to a common objective whilst ensuring their own development and motivational needs are met.
What one piece of advice would you give to someone seeking a career in the pharmaceutical industry?
Seek out and take every opportunity to gain a better insight into what a career in the pharmaceutical industry really means whilst you're at school or at university. Not only will this demonstrate your passion for this career on your CV but you'll also have a better idea of precisely what sort of roles in the pharmaceutical industry will suit you best.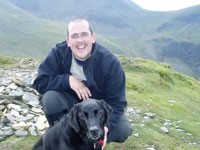 Adam
Senior IT Project Manager
Last modified: 20 September 2023
Last reviewed: 20 September 2023