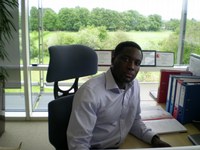 Oz
Assistant Financial Analyst
An understanding and appreciation of your specialisation, coupled with a good work ethic will get you in the door. After that it definitely is what you make of it. Oz
So, what do you do?
I am one of four trainee CIMA students in a Finance team of around 16 people. My current role involves supporting non UK functions and other divisions that operate and are based in the UK, as well as the monthly accounting and financial reporting for those groups. Previously I have been involved in stock accounting and also Pharmaceuticals performance reporting.
What does your typical day involve?
A typical day for me would generally begin with me answering emails. Working internationally means we're often not working when the US or Philipines are working. Spreadsheet design and analysis tool creation also takes up some of the day. This is where you can really use your skills to create tools the team can use and can take time and a lot of input from your team and other user groups.  Finance questions from cost centre managers and cost centre analysis makes up another part of the day and finally general accounting may make up the rest, as well as reporting or other ad hoc project/user group meetings.
Having said all of that, my role is a dynamic one and generally I cannot say that one day is the same as the other- within set roles and requirements- execution and delivery are often very fluid.
Why did you decide on a career in the pharmaceutical industry?
The pharmaceutical industry is a very dynamic industry which sets a lot of challenges and so a lot of learning experiences. Being as large and as diverse as it is, there is also the opportunity to gain a lot international experience, a highly prized asset on the personal development and career ladder. It also helps knowing that what you are doing actually doing makes a difference to the world that we live in.
How has your career developed since you entered the industry?
I have had the opportunity to rotate around various functions of the Finance setup in the UK. This has given me a sound understanding of many different functions of the business from the Finance perspective, has been a steep but very beneficial learning curve and an experience that would be a lot harder to gain elsewhere.
What qualifications and experience did you have when you entered the industry?
I studied Business Economics at University, and previous to that did A-levels in Economics, Maths and Biology. I had no direct experience in pharmaceuticals before this job, however various placements and summer jobs in financial environments put me in a good position for a role in Pharmaceutical finance.
Do you think additional qualifications or experience would be an advantage for someone entering the industry now?
Starting on a graduate scheme, you find that most companies will sponsor a professional qualification (CIMA in my case). An understanding and appreciation of your specialisation, coupled with a good work ethic will get you in the door. After that it definitely is what you make of it.
What is it like socially where you work?
Social experience is great at our work place. I think we have the right mix of young professionals and experienced professionals meaning that we have the right balance which allows an effective work ethic, without the "machine type" work environment. It does help that we have a graduate scheme that pulls similar age people from different areas together. The ability to mix with professionals from Finance, Medical and Marketing backgrounds, all the way from graduate and gap year level to experienced levels gives a very rich social experience.
What are you most proud of in your career?
I think the ability to change working practises, be it with the creation of new analyst tools. I have been able to be a part of a team which has been able to benefit from my skills learnt in precious roles and the ability to use those and them be valued is a very proud one for me.
What possibilities are there for your career in the future?
There are many secondment opportunities overseas at EMEA HQ in Paris, Corporate HQ in the US (New York) and other opportunities both locally and other special programmes. The great thing about the company I work for is that there is a clearly defined career ladder from the moment that you start working and with hard work it is definitely achievable for anyone who wants to.
What do you think are the most important skills for someone in your role to have?
I personally believe that communication, collaboration and the ability to drive performance with new ideas, work ethic and target deliverance are the most important. I personally feel that with these, everything else can fall into place.
What one piece of advice would you give to someone seeking a career in the pharmaceutical industry?
Research your chosen career path and research all the companies that you are interested in and that can offer your chosen path. The pharmaceutical industry has many different companies, large and small and from many different regions around the world, and in different areas of the industry (research, wholesale etc…). Culture and work practices may be totally different in each one. It is important that you look for where you believe you will be able to achieve your potential and be able to integrate and make use of resources and opportunities around you.
What is the best, or worst, thing about your placement?
I didn't have any issues with taking a placement as the benefits far outweigh any drawbacks. For example, others may want to finish university rather than add an extra year on, but without that year you might find it a lot harder to find a job.  Overall, deciding to do a placement was definitely the right decision for me.
Last modified: 20 September 2023
Last reviewed: 20 September 2023