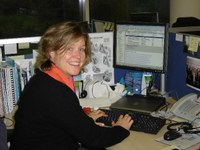 Clodagh
Healthcare Manager
I get to travel a lot – I went to the USA twice last year and the year before, and I have also been to lots of different European cities. Clodagh
So, what do you do?
I am the healthcare manager for our cardiovascular and metabolic products in northwest and north central London. The products I currently work on are an antihypertensive and a newly launched diabetes product.
I am doing this role as a secondment to gain experience within a more commercial role which was important for my development. The role is aligned to sales and is really a high level sales position, working with hospital trusts (PCTs) to ensure that the right patients have access to these medicines.
I work from home and in the field, visiting customers on a daily basis, discussing our products and potential partners to work with. Its all about creating good relationships, understanding what the customer is trying to achieve and looking out for opportunities.
How has your career developed since joining the industry?
I joined the industry as a medical information pharmacist about four and a half years ago, having already worked in medical information in the NHS. After a year I was seconded into a role as a Medical Science Manager to cover a maternity leave. This involved high level clinical and scientific discussions with key opinion leaders about products in a particular disease area. This was a great role, that I loved and I jumped at a permanent opening when it came up.
This led to my most senior position, as Medical Advisor for a mature antihypertensive product. My chief role was to produce and carry out the medical plan for that product each year. If a certain strategy has been decided on for the product, then my job is to think up suitable medical projects which would fit that strategy and, hopefully, lead to publications, perhaps from clinical trials or from data mining.
What does your typical day involve?
I work from home as well as working in the office. Mostly it is desk work and meetings. When I am out of the office I may do a presentation to a group or visit a key opinion leader.
I get to travel a lot – I went to the USA twice last year and the year before, and I have been to lots of different European cities – Prague, Vienna, Paris, Madrid, Cannes, Malta and the Italian lakes.
Do you work mostly on your own or as part of a team?
I mostly work alone and am given free rein to make decisions – which I love. However I am also involved in several different teams such as the cardiovascular medical team and the brand team.
What qualifications and experience did you have when you entered the industry?
I have a pharmacy degree from Bath and a Diploma in Clinical Pharmacy from Keele University. I had 9 years experience as a qualified pharmacist within the NHS before I joined the pharmaceutical industry.
Do you think additional qualifications or experience would be an advantage for someone entering the industry now?
Not really. In my type of role a BPharm/MPharm is equivalent to a PhD in terms of opportunity. If you are medically qualified you do get paid more and it is probably easier to progress through the medical department, but that doesn't mean that pharmacists can't – you just have to take a few more sideways steps to get there.
Why did you decide on a career in the industry?
I'd worked in the NHS for almost all of my career, bar several years travelling, and, although I loved it at first, I needed a change. I struggled to get the resources I needed to do my job well and started to consider opportunities in industry. I had made good contacts with medical reps, and these helped my find an appropriate opening where I could use my skills and management experience.
What is it like socially where you work?
I work with really nice people and we usually go to lunch together. Sometimes we go to the pub after work – especially in the summer as there is a big beer garden by the canal.
The other thing is that our offices and environment are really conducive to working. I have all the resources I want, have really helpful admin support and I get to look out over green fields and a river with swans from my desk.
What are you most proud of in your career?
Gaining 7 'Star' awards and a distinction award over the last 6 years for my involvement in various projects. Also my relatively fast progression; I have been lucky enough to have enjoyed 6 promotions within 6 years.
What possibilities are there for your career in the future?
There's a wide range of options for me. I could progress upwards to become a disease area head; I could get a job in our European offices, either based in Paris or operating from the UK, or I could make a sideways move into a more commercial role, eg. sales or marketing.
What do you think are the most important skills for someone in your role to have?
Great communication and organisational skills, the ability to prioritise well and great self confidence.
What one piece of advice would you give to someone seeking a career in the pharmaceutical industry?
Believe in yourself – pharmacists have loads to offer the industry, so if you really want it enough, just go for it – you won't look back.
Last modified: 20 September 2023
Last reviewed: 20 September 2023