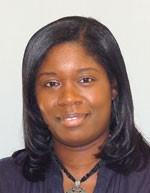 Sophia
Data Sciences Manager
I'm responsible for delivery of high quality clinical trial data for statistical analysis within the neurosciences therapeutic area. Sophia
What does your typical day involve?
I meet with different colleagues from across my organisation (eg physicians, computer programmers, statisticians, clinicians, regulatory affairs, health outcomes, contracts) to discuss various data quality aspects of my assigned clinical trials. The objective being to ensure that by the end of my trial the data collected accurately reflects all events and tests that occurred throughout the duration of that trial and to address any anomalies  (particularly those anomalies that meant the patient did not adhere to the study protocol). In this role it's important that anomalies are addressed in a timely manner  therefore placing subject safety and well-being first.
Some aspects of my studies are outsourced. This is currently a popular model in this industry as it allows staff in our company to focus on the overall project deliverables. So as a result I am in frequent contact with other third party companies (vendors) across the globe who process some aspects of our data on our behalf.
From time to time I'm required to deliver training on the more challenging parts of the study where it relates to the ensuring the quality of the data to be collected, eg diary data, logistics to an extension study.
Training along with meetings when not face to face often take place via telephone conferencing (TCs) or video conferencing (VTC). A meeting agenda is usually sent out in advance which helps to keep the meeting focused as well as to allow the meeting participants to prepare their input.
Do you work mostly on your own or as part of team?
This varies from time to time but currently I work as part of a core team of six and wider team of approximately 10. In addition to this are our outsourcing partners sometimes known as 'Strategic Alliance Partners'.
How long have you been in your current role?
Two years in this role.
What qualifications and experience do you have?
I have an honours degree (BSc) in Pharmacology and a Post Graduate Diploma in Management.
When and why did you decide on a career in the pharmaceutical industry?
I loved watching the medical dramas on TV as a youngster and wanted to find my own niche where I could help others in a related way.
How has your career developed since you left university
I have worked in other areas such as medical publishing, clinical pathology, scientific event management and more recently in clinical trials. I'm fortunate that all aspects of my prior experience have always proved to be extremely valuable and continue to contribute to my career path often allowing me to have a bigger or more holistic picture of projects to which I'm assigned.
Do you think additional qualifications or experience would be an advantage for someone entering the industry now? What might be valuable?
I believe work experience can significantly augment any qualifications you may have. This often provides a substantial leverage plus let's you get a feel for if this is something you really want to do!
Temporary work is a great way to get a wide and varied exposure to the industry. Strongly consider any unpaid opportunities. Maybe not so lucrative in immediate monetary terms, but could pay dividends in the future.
What is it like socially where you work?
Everyone is very friendly and stops for a chat especially at the Starbucks we have in our building!
What are you most proud of in your career? 
Knowing that the creative, innovative ideas that I have contributed to in my different roles have always been very appreciated particularly where leading to improvements in the way things are done.
What possibilities are there for your career in the future? 
My company has a number of sites globally and many different departments within research and development, manufacturing, through to consumer health and as such continues to provide opportunities for career development by way of mentoring secondments or indeed by changing role within the company.
What do you think are the most important skills for someone in your role to have?
Networking skills – important to know who's who, to acquire information to support your day to day work/what's going on in the organisation ... a lot gets said over coffee and at the photocopying machine!
Creativity to contribute to process improvement
Ability to think outside the box/see the bigger picture
Be conscious of potential impacts of decisions
Ability to prioritise activities
Confident to escalate issues or concerns to a relevant person
Teamwork/flexibility – important especially when resource is scarce
Presentation skills
Creativity to contribute to process improvement
What one piece of advice would you give to someone seeking a career in the pharmaceutical industry?
Get advice/mentoring on developing a great, eye catching CV that really details the skills that you can offer. Try contacting STEMNET, your careers advisor or even the HR department of a pharmaceutical company that interests you.
Last modified: 20 September 2023
Last reviewed: 20 September 2023