Commercial Account Manager
Commercial Account Manager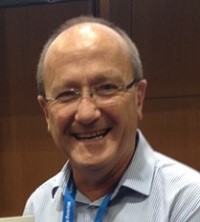 Tony
Commercial Account Manager
I have been exposed to the challenges of working in a small family owned pharmaceutical company to working as I am now for one of the largest pharmaceutical companies in the world. Tony
What do you do?
I account manage the strategic relationship of two of the largest retail organisations in the UK. 
What qualifications and experience do you have?
Business studies degree
ABPI certified
37 years continually working within the pharma industry, specifically in the pharmacy arena.
What does your typical day involve?
Account management
Business review planning
Managing customer engagement
Customer calls
Diary planning
Project review 
How has your career developed since you entered the industry?
My career has developed over time from representative to key account and national account management. I have both managed and directed colleagues in those organisations I have worked for.
I have been exposed to the challenges of working in a small family owned pharmaceutical company to working as I am now for one of the largest pharmaceutical companies in the world.
Throughout my career there has been one common thread and that is the continual development of my people and account management skills.
I have always held commercial roles working with community pharmacy, dispensing doctors, grocery and the national chains.
When did you decide on a career in the pharmaceutical industry?
Whilst working for an advertising agency; this took me to a subsidiary of large pharmaceutical company. 
Do you work mostly on your own or as part of team?
I am part of a team focused specifically on pharmacy and our relations with that community. Similarly I regard my role also one of 'conductor' orchestrating other colleagues across the wider business and therefore I feel very much part of a wider team. 
What is it like socially where you work?
The environment and the culture of where I work is very important to me and the culture of my current employer has proven to be the best I have ever encountered. 
What are you most proud of in your career?
My ability to adapt quickly to change and help colleagues through that same change curve. 
Do you think additional qualifications or experience would be an advantage for someone entering the industry now?
Yes although not necessarily, much will depend on one's area of interest, e.g. our industry employs lawyers, doctors, pharmacists, copy writers, journalists or simply individuals who want to make difference to the lives of others. 
What possibilities are there for your career in the future?
I see the opportunities as endless; despite my length of service and indeed age I have always felt there are new opportunities open to me and more new skills to develop and experiences to learn from.
I have only recently developed a new set of skills related to Lean 6 Sigma which has completely turned my thinking and approach to problem solving upside down enabling me to add value in areas where I would not have thought possible. 
What do you think the most important skills are for someone in your role?
People engagement skills, business acumen and team working. 
What's the biggest difference between working in academia and the pharmaceutical industry?
Exposure to the challenges of the real world, the opportunity to meet people from all walks of life and the ability to broaden my horizons in a way that would simply not be possible in academia. 
What one piece of advice would you give to someone seeking a career in the pharmaceutical industry?
Be open minded and do not focus too early on one avenue or area of expertise.
Last modified: 20 September 2023
Last reviewed: 20 September 2023