Chemistry Outsourcing Manager and Synthetic Chemist
Chemistry Outsourcing Manager and Synthetic Chemist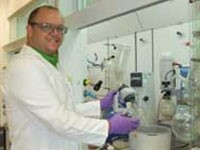 Stefano
Chemistry Outsourcing Manager and Synthetic Chemist
A talk at university from a pharmaceutical industry chemist gave me an insight into what the pharmaceutical industry could offer and inspired me to try to get some work experience in a pharmaceutical company. Stefano
So, what do you do?
I am a synthetic organic chemist and produce chemical compounds for testing as possible drug candidates. My role also involves managing outsourced projects.
What does your typical day involve?
My day is split between working in the lab, where I make chemical compounds in quantities between 10 and 500g, and managing our links with an outside company who also make compounds for us.
The team I work with scale up the synthesis of lead compounds in the search for new medicines. Sometimes the route that has been used to make the compound on a small scale involves hazardous chemicals, or is difficult to scale up, and we have to look for a better process to make the compound, other times we just scale up an existing process.
The company my particular area outsources work to is located in India. A major part of this role involves regular communication regarding the overall contract and the overall outsourcing strategy. I also input into the chemistry, problem solving where required. 
Do you work mostly on your own or as part of team?
Although I have sole responsibility for interactions with the outsourcing company, I am definitely one of a team. The team of synthetic chemists I work in is currently made up of eight full time staff and three undergraduate students on a year's placement in our company in the UK.
As well as these chemists, I work closely with medicinal chemists who make compounds on a smaller scale, analytical chemists and, of course, the chemists in India. I also have regular interactions with the 'customers' for the compounds I make. These include chemical development scientists, toxicology scientists, pharmaceutical development scientists and scientists in other roles within the company.
What qualifications and experience do you have?
I was at school in Scotland so I took Highers. I have Highers in Maths, Physics, Chemistry, English, French and Biology. I have a Certificate of Sixth Year Studies in Maths and Chemistry.
I studied Chemistry and Medicinal Chemistry at the University of Glasgow and have an 1st class MSci degree.
When and why did you decide on a career in the pharmaceutical Industry?
A talk at university from a pharmaceutical industry chemist gave me an insight into what the pharmaceutical industry could offer for chemists, and inspired me to try to get some work experience in a pharmaceutical company.
My degree did not allow me to do an industrial placement year as part of the course, but I got a two month summer placement between my 3rd and 4th years at Glaxo Wellcome in the Chemical Development Department. Working there convinced me that I wanted to work as a Chemist in the pharmaceutical industry.
How has your career developed since you left university?
For the first seven or eight years after I joined the company my work was mainly lab based, though I had the opportunity to do different things during this time. For instance about 18 months after I joined the company I had a secondment into a different area of chemistry, working with arrays, making compounds on a very small scale – just a few mg of 24 – 48 compounds at a time. This allowed me to develop different skills and experience a different role.
Then, about two years ago, I took on the role of managing outsourcing for my area. This now takes up approximately half of my time.
Alongside my scientific role I am also involved in the recruitment of industrial placement students. I have interviewed students from academic institutions across the UK and Europe.
In the ten years I have worked here I have been promoted three times.
Do you think additional qualifications or experience would be an advantage for someone entering the industry now?
No, a four or five year undergraduate masters' degree is a good preparation for working in the industry, the experience you get through doing a placement in industry is very helpful in getting a job at the end of your degree.
One of the main strengths of the company I work for is that it provides excellent staff development opportunities. For instance it supports people in the chemistry department who want to complete an MPhil or PhD, whilst being a full time employee working on company projects.
What is it like socially where you work?
The social life is very good. There are three teams that work together in my area and everyone is very friendly; we meet up in the tea area twice a day. There are organised social events a couple of times a year for chemistry and biology teams that work closely together – 30 to 40 people in total, and a big Christmas social event.
If you are keen on sports there are fantastic facilities – an onsite gym, football teams and other sports facilities.
What are you most proud of in your career? 
It was great to secure the work placement, and then a permanent job. In my job I am often working to very tight timelines and it is very satisfying when you meet these. There is often a lot of pressure to make a batch of compound to enable a particular study to start.
I have worked on over ten different campaigns and, of these, three or four compounds are still being progressed through development and one is about to go into trials in healthy human volunteers!
What possibilities are there for your career in the future? 
I really enjoy my current job and am not looking to change it in the near future; I enjoy the variety within it. There are lots of opportunities available within the company including secondments to other areas of the business and also the opportunity to carry out a PhD within the organisation.  The great thing about my company is the value it places on continuous development of its staff. The challenge is selecting those opportunities which play to your strengths and interests. It's a good challenge to have!
What do you think are the most important skills for someone in your role to have?
Good communication skills are probably one of the most important, it is really important that you are able to discuss your work with colleagues, especially when problems arise. You obviously have to have strong scientific knowledge and skills and good organisational skills to be able to plan ahead to meet the targets set. Sometimes I also need good negotiating skills to ensure that my work gets prioritised to allow me to meet a deadline! 
What one piece of advice would you give to someone seeking a career in the pharmaceutical industry?
Try to get some relevant experience. If you are offered an industrial placement it is a really excellent opportunity to experience what industry has to offer, and you pick up very valuable skills. A placement also helps you decide if that is what you want to do as a career.
Last modified: 20 September 2023
Last reviewed: 20 September 2023