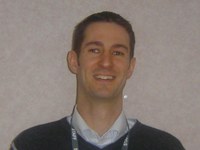 Paul
Engineering Operations Manager
By working in the pharmaceutical industry you are doing something to make people better and improve their quality of life, and that is very important to me. Paul
So, what do you do?
I have recently been appointed Engineering Operations Manager at one of the company's smaller manufacturing sites. I have responsibility for all engineering activities on site – maintenance, capital budgets and projects and site utilities. I have a team of half a dozen direct reports.
How has your career developed since you entered the industry?
I have had seven different roles across four different sites. I worked in Project Engineering, as a Process Engineer and looked after the capital budgeting and forecasting for all manufacturing sites before moving into Project Management roles in Research and Development and Consumer Healthcare including spending four months working in India.
What does your typical day involve?
No two days are ever the same, but it could involve:-
Reviewing a business case for a capital project

Assessing the Engineering impact of a process change

Taking part in the investigation into a production issue

Forecasting the annual capital budget

Reviewing the weekly maintenance plans
Why did you decide on a career in the Pharmaceutical Industry?
By working in the Pharmaceutical Industry in some way shape or form, you are doing something to make people better and improve their quality of life and that is very important to me. I had two job offers to choose from in my final year at University, I selected this one for the reason above; oh and it paid a bit more money!!
What qualifications and experience have you got?
I have a first class honours degree in Chemical Engineering from the University of Bath.
Do you think additional qualifications or experience would be an advantage for someone entering the industry now? What might be valuable?
A business or basic financial qualification would be useful.
What are you most proud of in your career?
Working on the scaling up of a new HIV product that was launched in 2004.
What possibilities are there for your career in the future?
The company I work for is very large so opportunities are extensive and varied, including the possibility of working abroad if I wish.
What do you think are the most important skills for someone in your role to have?
It is vital that you are able to communicate with people at all levels, to quickly assess a problem and establish that steps need to be undertaken in a attempt to solve it. Demonstrating a sense of urgency is also very important.
What one piece of advice would you give to someone seeking a career in the pharmaceutical industry?
I would say that as people are always getting ill, they will always need medicines so, if you are good at your job, there will always be opportunities in the industry. However, with continuing advances in science, that job will be constantly changing and you have to be prepared to adapt accordingly.
Last modified: 20 September 2023
Last reviewed: 20 September 2023