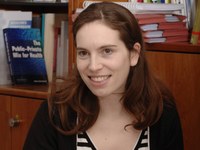 Karen
Biostatistics Manager
I often have many different activities ongoing at the same time and need to be really organised in order stay on top of them all. Karen
So, what do you do?
I am currently the Manager of the Biostatistics team within the Biostatistics and Programming (B&P) department at a contract research organisation. I am responsible for a team of Biostatisticians who are involved in the production of clinical trial reports and the provision of statistical services.
How has your career developed since you entered the industry?
I started my career as an Associate Biostatistician. Shortly after I joined the company I also started studying (via distance learning) for my MSc in Applied Statistics at Sheffield Hallam University. During my 12 years here I have progressed through various roles (Biostatistician, Team Leader, Principal Biostatistician and now Manager) as I have gained more experience and taken on more responsibility within the department.
Why did you decide on a career in the pharmaceutical industry?
I can't honestly say that I did actively decide on a career in the pharmaceutical industry. I saw, and then applied for, the job advertised through the Careers Service at Sheffield University. It was the idea of being able to study for my MSc at the same time as starting to earn some money that really interested me when I saw the advert.
What qualifications and experience did you have when you entered the industry?
When I entered the industry I was armed with my BSc in Mathematics from Sheffield University.
Do you think additional qualifications or experience would be an advantage for someone entering the industry now? What might be valuable?
I studied for my MSc whist working, although not all roles within the pharmaceutical industry will have this as an option. Therefore, already having an MSc in Statistics would likely be an advantage.
What does your typical day involve?
I don't really have a "typical" day – no two are ever the same and they tend to be really varied. I still get involved in project work so could be inputting into/reviewing protocols, writing/checking an analysis plan, producing/checking summaries and analyses, or providing statistical consultancy to a client.  I will get involved in arranging resource for each of our projects and supporting team members with issues on their projects. As a line manager I'm responsible for the training and development of the Biostatistics team so may get involved in arranging training or performing performance reviews, as well as the day to day management of the department.
Do you work mostly on your own or as part of team?
Generally I work as part of a team; however, the team of people I work with is constantly changing. As Manager I may be working with other managers with the worldwide B&P group or member of the Biostatistics team. On a project level I will be working with a team of Biostatisticians and Programmers from the department as well as members of other departments (e.g. data management and medical writing). These teams will vary from project to project.
What is it like socially where you work?
The social scene is very active. We have a Sports and Social club who arrange lots of activities including sports clubs, cinema trips, meals out, go karting and, my favourite, trips to a Spa!! It is up to each individual just how much or little they want to get involved.
What are you most proud of in your career?
My proudest achievement was my promotion to my current role. It was a big step forward for me and I took on a lot more responsibility. I feel now that I really have worked my way up through the department!
What possibilities are there for your career in the future?
Having only just taken on my role as the Manager of the Biostatistics team, I still have a lot to learn in this role, so for now I'm focusing on developing my skills within this role.
What do you think are the most important skills for someone in your role to have?
As well as needing strong technical skills (SAS programming and statistical) I think very good communication and organisation skills are essential for this role. I'm dealing with many different people in a variety of roles and need to be able to get the information I need to do my job and also need to be able to pass on information clearly and concisely. I often have many different activities ongoing at the same time and need to be really organised in order stay on top of them all.
What one piece of advice would you give to someone seeking a career in the pharmaceutical industry?
I have found my career within the industry both challenging and interesting. For statistics, I think it is really important to give some thought to the type of MSc course you choose (full time/part time/distance learning) and make sure it really suits your individual requirements. I chose to do this distance learning, which isn't an easy option. At time I found working and studying at the same time difficult to balance. You need to be really keen and disciplined to make a success of both!
Last modified: 20 September 2023
Last reviewed: 20 September 2023