Medical Director UK and Republic of Ireland
Medical Director UK and Republic of Ireland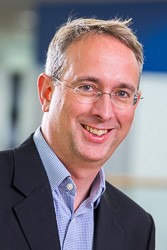 Jonathan
Medical Director
My role involves managing a team of 90 employees working across multiple medical, regulatory, compliance and drug safety disciplines. Jonathan
What do you do?
Medical leadership, development and direction of 90 employees working across multiple disciplines including medical affairs, medical science liaison, clinical research, regulatory, compliance, drug safety and medical information supporting a broad portfolio of products
What qualifications and experience do you have?
MBBS, MRCS, PHD, FFPM, FESC
What does your typical day involve?
I lead a cross-functional team of medical, regulatory, and clinical experts and work closely with colleagues in commercial and financial parts of the business as well as individually with multidisciplinary teams working on specific projects.
How has your career developed since you entered the industry?
Global Medical Development for Acute Cardiovascular Care Products (Dec 12 – Feb 2015)
Global Innovation Leader, Surgery and Perioperative Care (Jan 10 – Nov 12)
European Medical Affairs (Jan 08 – Dec 09)
Medical Affairs Manager (Sept 06 – Dec 07)
When did you decide on a career in the pharmaceutical industry?
My PhD was on therapeutic thrombin inhibition and inflammation. Much of the work I did was translational and clinical focusing on better understanding the mechanism of action of a drug widely used in cardiac surgery at the time. This was published well and caught the attention of the academic community in the US as well as Bayer who commercialised the drug in question. As a result I was invited to give several lectures and attend several meetings in the US which gave me my first exposure to the pharmaceutical industry.
I later then also started to work as an investigator in some clinical trials on a complement inhibitor, which exposed me to clinical trials and working with the pharmaceutical company who sponsored the studies. 
Do you work mostly on your own or as part of team?
Part of a team – almost always. Almost everything we achieve is as part of a team and that is half the fun – everyone brings something different to the table and together you achieve more.
What is it like socially where you work?
Great fun – nice people – very intelligent! Over the last ten years many of the people I have worked with are now lifelong friends and we meet up socially with our respective families outside work. Same applies to my clinical life too – I've stayed in touch with many people over the years from Medical School onwards.
What are you most proud of in your career?
Designing and working on two trials now published in NEJM and also getting two new medicines approved for use in patients – one achieved a Class 1b guideline recommendation and was widely used all over the world in I imagine hundreds of thousands of patients.
Do you think additional qualifications or experience would be an advantage for someone entering the industry now?
I can only speak for my path but I do think it has helped me. I spent ten years in the NHS where I trained as a cardiothoracic surgeon but through that journey treated many different types of patients with many different clinical conditions and learnt a lot of skills that have I think served me well.
What possibilities are there for your career in the future?
Countless – the great thing about Industry is the endless opportunities. I love the fact that I'm not entirely sure what I'll be doing 5 years from now but am comforted by the fact that there is a long list of options – different disciplines in pharmaceutical medicine ranging from drug development, medical affairs, drug safety as well as geographical variability allowing me should I wish to move and live in other countries all over the world.
What do you think the most important skills are for someone in your role?
I think good communications skills and the ability to be able to interact and positively influence all types of people on a large range of different topics are really important.
What's the biggest difference between working in academia and the pharmaceutical industry?
There is an ability to influence healthcare practice on a much larger scale either nationally or internationally which is a real privilege in Industry. It is important to work closely with each other too as it helps us to understand each other.
What one piece of advice would you give to someone seeking a career in the pharmaceutical industry?
Research the opportunity carefully and once you decide to go for it put your heart and soul into it – it will be very rewarding and like all things in life you'll get out of it what you put in.
Last modified: 20 September 2023
Last reviewed: 20 September 2023