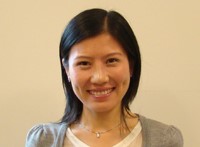 Jing
Director, Value Access Strategy, Head of Health Economics
I enjoy working in the highly innovative pharmaceutical industry with the exciting opportunities and challenges it provides. Jing
So, what do you do?
I use clinical and economic evidence to demonstrate the value of medicines and increase patient access to new medicines.
Leadership and team management: Build and lead a team of health economists and upskill the team to be top Health Economics and Outcomes Research (HEOR) experts. 
Business strategy and execution: Set strategic directions of the business, execute the business plans to expand the business and client-base in health economics and market access. 
Resource management: Manage and allocate resources according to the business priorities; ensure the organic growth of the business in terms of workload, finance, recruitment, etc.
What does your typical day involve?
There are several aspects to the work I do; these involve working with different groups of people on different projects.  
Strategy setting and execution: As part of the senior leadership team and head of the department, I set the strategy of the department, and align the strategy with the objectives of the company. I develop tactics and action plans, and lead the team to execute the strategy.

Team management and project oversight: Line manage team members and provide strategic directions to, and quality control of, the projects they work on. Develop and upskill existing team, and expand the team by recruiting new people.

Business development: Develop business as the key thought leader in health economics. Connect with other organisations and experts in the area. Collaborate on the health economics and market access projects.

Resource management: Manage resource, team workload, staff turn-over, revenue and profit to make sure that the resource is appropriately allocated according to the priorities, and hence ensure an organic growth of the company.

Training and education: Organise and conduct internal and external economic trainings to the team, other health economists, and non-health economists; publish research findings to provide education to a broader audience.
Do you work mostly on your own or as part of team?
I work mostly as part of team.
How long have you been in your current role?
One year.
What qualifications and experience do you have?
I initially studied for a BA in Linguistics and Economics before going on to do an MSc in Health Economics at the Central South University in China. I then completed a four-year PhD programme in Health Economics and Health Sciences in the University of York. My research area: incentives and performance of doctors.
Why did you decide on a career in the pharmaceutical industry?
With my background as a health economist, I found that I enjoy working in the highly innovative pharmaceutical industry with the exciting opportunities and challenges it provides. I like to see my contribution to people's health with good value products. I like the interactions with all kinds of stakeholders and multidisciplinary teams.
How has your career developed since you left university?
After completing my PhD, I worked for a year as a post-doctoral fellow in the university and then one-and-a-half years in the Office of Health Economics as a consultant. I then worked in pharmaceutical industry for over 6 years. Now I work in consultancy working with the pharmaceutical industry.
What qualifications or experience would you recommend for someone entering the industry now?
Ideally, a PhD in health economics, but more practically maybe a Master degree in health economics from University of York, University of Sheffield, or London School of Economics.
What is it like socially where you work?
The social life is excellent – many of my colleagues have become good friends. We socialise outside work quite a lot.
What are you most proud of in your career?
Building up a great team.
What possibilities are there for your career in the future? 
In HEOR the career perspective is encouraging as there is a high demand and short supply of health economists.
What do you think are the most important skills for someone in your role to have?
Knowledge and experience with health economic modelling and economic analyses, evidence-based medicine, medical statistics.
What one piece of advice would you give to someone seeking a career in the pharmaceutical industry?
Be a great team-worker, which means transparency, trust, respect, and be the true-self. You cannot be your best if you have to hide your thoughts or live to others' ideas. At the same time, you can learn and improve how to get your ideas across without being rude and inconsiderate.
Last modified: 20 September 2023
Last reviewed: 20 September 2023