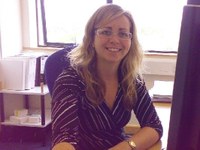 Rhian
Clinical Pharmacy Co-ordinator
My first experience of the pharmaceutical industry was as a 12-week summer placement at Pfizer in their early formulation department. Rhian
So, what do you do?
My main role is the coordination of clinical trial supplies for various global clinical studies (Phases I-III), I took on this role 2 years ago.
What qualifications and experience do you have?
I have a Pharmacy degree (BPharm) from University of Bath  and a PhD from Cardiff University on inhalation formulation development.
My first experience of the pharmaceutical industry was as a 12-week summer placement at Pfizer in their early formulation department. I also did a pre-registration with Novartis and a six-month placement at Simbec Research, a small Phase I Contract Research Organisation (CRO) as a research pharmacist.
Why did you decide on a career in the pharmaceutical industry?
When I did the summer placement I found it was a very high powered, exciting environment in which everyone was extremely focused. I gained a significant amount of knowledge about formulation that came in very useful during my final year at university as I ended up choosing formulation for my area of choice.
The fact that I enjoyed my summer placement, and also my final year made me decide on an industrial pre-registration placement – I was up for a challenge and to try something a little different from the norm; my counterparts were all looking for places with Boots or Lloyds.  I was based in technical operations for 6 months (the other 6 months was spent in Worthing hospital) but ventured into research, pharmaceutical development and clinical trial supply. This made me seriously consider undertaking a PhD, as it was obvious that most of those climbing the ladder at both Pfizer and Novartis had this qualification.
After I qualified as a pharmacist, I spent a year as a locum in the South East around the Brighton area whilst looking for a suitable PhD and found an opportunity at Cardiff University.
Do you think additional qualifications or experience would be an advantage for someone entering the industry?
When I was applying for a permanent job, it seemed that every recruitment agency asked for a minimum of 1 year's experience. I would say that getting some experience during a vacation period would be a great advantage.
What does your typical day involve?
In the morning I action/reply to emails I've received from the USA overnight. I monitor drug supplies in studies I'm managing in Europe and Asia Pacific and organise any shipments that may be necessary.
If I'm working on a protocol that hasn't yet started, I plan the clinical supplies needed to support the study and submit manufacturing and packaging orders accordingly. Most afternoons I'm in meetings with clinical research colleagues from Europe and the USA.
Do you work mostly on your own or as part of team?
I work mostly as part of a multi-disciplinary team but I also work on my own especially during the planning phase of a clinical trial.
What is it like socially where you work?
The majority of the team don't live that close to the site so it's difficult to go out after work. We celebrate birthdays, marriages and leaving dos with a pub lunch or picnic on the site grounds (weather permitting).
What are you most proud of in your career?
Successfully managing the clinical drug supplies for several global clinical trials, working on adaptive design trials and getting promoted at the start of the year in recognition of the work I've done to date.
What possibilities are there for your career in the future?
There are possibilities of me having line managerial opportunities and in the ever-changing clinical trials environment of specialising in one particular area. For example, I'm currently involved in the clinical drug supply planning for adaptive trials and this is something that I'd like to explore further.
What do you think are the most important skills for someone in your role to have?
Excellent organisational and communication skills and the ability to think under pressure.
What one piece of advice would you give to someone seeking a career in the pharmaceutical industry?
If you really want a job in the industry, try to get some work experience so you know what you're letting yourself in for. Make contacts – it's definitely who you know – as some companies only advertise internally or ask their employees to recommend someone.
Last modified: 20 September 2023
Last reviewed: 20 September 2023