Clinical Research Associate
Clinical Research Associate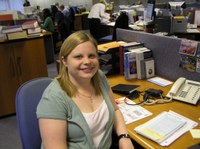 I worked here for this company, in this department, for the industrial placement year of my degree, that's how I got this job! Rebecca
So, what do you do?
I work in clinical pharmacology running clinical pharmacology studies, taking a new drug into humans for the first time (Phase I of the clinical trials).  I work with the team to develop a protocol to set up and run the study by sorting out regulatory approvals, suppliers needed, getting all the relevant documentation together so that the study can go ahead.
Once the study is running I monitor it to make sure it's progressing as we would want it to and that recruitment is OK and if the site are having any problems I try to resolve them to ensure that we get good quality data.
What does your typical day involve?
No two days are the same.  Every compound and every study is different, so each one has unique areas you need to look at.
But my typical day probably starts with checking emails. A lot of the people who I work with are in the US or Australia, so I need to see what's come in overnight, and respond to queries from sites and colleagues.
I'll spend some of my day working on documents and getting things ready for the studies.  I have to attend a lot of meetings with the teams to discuss study designs, the development of a compound and reporting on how ongoing studies are going and reporting any trends.
I spend a lot of time updating colleagues about the progress of various studies.  Depending on where the study is, I may have to travel.  A lot of our studies are in Europe, so I may need to go over and meet with the people who are going to be conducting the study.
Do you work mostly on your own or as part of team?
It varies, but a typical day is probably 50:50.  I spend some time working on my own on documents, responding to emails and requests and then spend other time working in meetings and sharing ideas with colleagues.
How long have you been in your current role?
It's 2 years since I graduated.  But I worked here for this company, in this department, for the industrial placement year of my degree, that's how I got this job!  I'd made lots of friends during my industrial placement who I'd kept in touch with and I was really lucky that an opportunity came up while I was in my final year and they got in touch as they knew I was still looking for a job.
What are you most proud of in your career?
I think, getting to where I am today.  I'm working with lots of different people and starting to build a reputation.  I think I'm a valued member of the team and I've got people coming to me for advice.
What possibilities are there for your career in the future?
I could progress within this department or move into later phase, much bigger, studies.  I could maybe go in to more of a management role, managing people, or go into discovery medicine and manage a compound.  The possibilities are endless!
Why did you decide on a career in the Pharmaceutical Industry?  When did you make this decision?
From an early age I wanted to become a doctor so I chose A-levels that would allow me to go in to medicine. But after my first year of A-levels I realised I wasn't going to be able to get in to medicine. I knew I still wanted to work in the medical field and work towards helping people.  While I was studying my degree I became interested in clinical research and wasn't keen on lab work, so I knew I didn't want a career that was lab based. But I really didn't know what I wanted to do until my industrial placement, I really enjoyed the work I was doing and it was really then that I decided "yeah, this is what I want to do".
What qualifications and experience did you have when you entered the industry?
I've got A-levels in Biology, Chemistry and Maths.  During my A-levels I did some voluntary work at a day hospital for people with dementia, just one afternoon a week. This has come in quite useful in my work as some of the compounds I work on are for dementia, so I have background knowledge of the disease.
I then went to Leeds University to study a Medical Science degree. During the summer holidays I worked as an auxiliary nurse in the local community hospital, not only was it great because I got paid, but also it gave me experiences to draw on for interviews, and helped me gain skills when working under pressure and dealing with difficult situations.
I applied for the year in industry after some students at Leeds University gave a talk on their experiences and it sounded a really good idea.
Do you think additional qualifications or experience would be an advantage for someone entering the industry now?
Not for the role that I'm doing now. It depends what it is you want to do. There are a lot of people who I work with who have PhDs or who are working towards a Masters while they're working.
What is it like socially where you work?
Really good. The team I work in has people from all different backgrounds, with different experiences and interests, we all go to lunch together and some of us go out in the evenings together. Also there's a leisure centre here, so you can join different teams or go to the gym.
What do you think are the most important skills for someone in your role to have?
Obviously you need to be computer literate, able to use Word and Excel.  But the most important skills are communication, written and verbal. You need to be a good team player and able to multitask and prioritise and think logistically.
What one piece of advice would you give to someone seeking a career in the pharmaceutical industry?
Try to get experience as early as you can.  I know I keep going back to my Year in Industry but it's been worth it's weight in gold, I wouldn't be doing the work I'm doing now if it hadn't been for that year. Because when you're looking for a job everyone wants you to have had experience. It teaches you to manage your time and workload much more effectively which improves your degree and you make contacts within the industry so it improves your chances of getting a job.  If you get the opportunity to do a year in industry I'd say grab it with both hands!
Last modified: 20 September 2023
Last reviewed: 20 September 2023