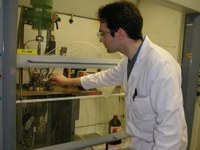 Mark
Process Development Chemist
Each day is too variable to be typical, which is one reason why I like the job. Mark
So, what do you do?
I currently work in the Chemical Process Improvement laboratory within manufacturing. I work on both short and longer term projects. Generally, examples of short term projects would be assessing alternative suppliers' raw materials or troubleshooting.  Longer term projects would involve redeveloping the industrial process to improve yield, or plant/production efficiency. These types of project would stretch over one year and probably wouldn't be fully implemented within two years, depending on regulatory constraints.
What does your typical day involve?
Each day is far too variable to be typical, which is one reason why I like the job.  One of my typical days might be running through a process step or reaction as part of an assessment of a new manufacturing route, as well as organising teams to investigate or troubleshoot plant issues. Desk time might involve researching alternative catalysts for a process or liaising with suppliers who are running a process that has been developed in our lab and transferred to their facility.
How has your career developed since you entered the industry?
I started as a process chemist in manufacturing straight from my PhD.  After a rapid learning curve, I acquired more responsibility and became involved in transferring improvements to the plant. I also gained some line management experience. The job didn't involve as much laboratory based chemistry as I would like, so I changed companies. This increased my exposure to reactions, synthetic sequences and purification techniques on larger scale than is typically found in a research laboratory.  I then moved to my current role, improving processes within manufacturing.
Why did you decide on a career in the Pharmaceutical Industry?
In the final year of my PhD I realised I wanted to be involved with products actually being manufactured or transferred to manufacturing as this seemed to be more a part of the "real world".
What qualifications and experience did you have when you entered the industry?
My BSc, from Lancaster University, was in chemistry and polymer science, followed by a PhD at Warwick in organic synthetic methodology.
Would additional qualifications or experience be useful for someone entering the industry now?
They can certainly never hurt. During my time in my latest job I became a chartered chemist. Whilst it's not a requirement of my role, if I was to change industry it can only be seen as something positive. There are also chemistry and management postgraduate qualifications as well as a "green" chemistry one which has just come out.  These sorts of things, I feel, will be important in the future.
What possibilities are there for your career in the future?
If I want to stay in the laboratory, then I would say tackling larger projects and gaining people management experience. There are options to move more into a plant based role, such as production support or an improvement role to do with lean manufacturing and variation reduction (Six-sigma).
What do you think are the most important skills for someone in your role to have?
Whilst academic skills are always important, "softer" skills that don't get taught are required.  Being flexible requires forward planning, but will enable people to accommodate your work requests more easily. Working to the task and not the clock, paying attention to detail and taking professional pride in what you do are all beneficial.
What one piece of advice would you give to someone seeking a career in the pharmaceutical industry?
Do your research. Find out what the industry is all about and read about companies, what their big products are and what their pipeline looks like.  Then depending on what you want your future role to be, judge which company matches up with your expectations the most. Biggest is not necessarily best for every role.
Last modified: 20 September 2023
Last reviewed: 20 September 2023