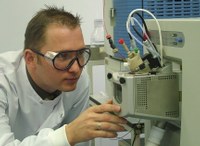 John
Associate Director, Metabolism & Pharmacokinetics
Post-graduate qualifications aided my early career progression and also meant that I started at a grade higher than fresh graduates. John
So, what do you do?
I currently work for a major CRO (Contract Research Organisation) involved in supporting the development of new medicines.
I am the Scientific Lead for DMPK studies. Advising clients on study designs. I am also the Home Office Project Licence Holder, and Scientific lead for the Study Director group within our organisation on one of our sites.
As a Study Director I have scientific and legal responsibilities for the co-ordination, conduct and reporting of in-life studies. The role brings its own challenges; with the novel nature of the compounds we investigate often requiring innovative approaches to solve investigation of metabolites.
I maintain contact with sponsors, prepare study protocols, schedule resources (staff and equipment), collate and interpret data, and write reports.
There are additional departmental responsibilities that all staff can get involved in, from implementation of graduate training programme, peer review of reports, business development and process improvement initiatives.
How has your career developed since you entered the industry?
Following post-graduate and post-doctoral research within academia, I started working as a Senior Scientist at a Contract research organisation (CRO) in the department of Drug Metabolism and Pharmacokinetics (DMPK). I progressed quickly through the ranks, becoming a Study Director in 2003, a Study Manager in 2004 and Senior Study Manager later that same year.
In 2005 I joined a small CRO that utilises Accelerator Mass Spectrometry technology to study the pharmacokinetics of new chemical entities in man. I was heading up the Laboratory and Study Director group and oversaw the expansion of the company from about 15 to 30 staff during the 18 months I spent there.
A year later I decided to move back into mainstream pre-clinical ADME (absorption, distribution and metabolism) work with my present employer; a larger more established CRO.
Why did you decide on a career in the pharmaceutical industry?
The decision to enter industry was always one I wanted to make. The problem is that as a relatively naïve post-graduate with so many others wanting to do the same thing, it was difficult to gauge when the time was right to make the jump from the enclosed world of academia, into the commercially driven private sector. After gaining my PhD and post-doctoral education I was 24, so felt mature and ready to enter the industrial environment.
What qualifications and experience did you have when you entered the industry?
BSc (Hons) 2.1 in Biochemistry and a PhD in molecular cell biology, both from University of Sheffield. 
Do you think additional qualifications or experience would be an advantage for someone entering the industry now? What might be valuable?
It was definitively an advantage to have post-graduate qualifications. This certainly aided my early career progression and also meant that I started at a grade higher than fresh graduates.
My research also meant that I had experience of many techniques utilised within industry which you would not necessarily get at an undergraduate level.
Do you work mostly on your own or as part of team?
As Study Director you head up individual projects, but you must liaise directly with many different people in different departments and often different countries to enable full evaluation of the new chemical entities. 
In the company I work for we have a 'Matrix type structure' within metabolism so, for each particular study, a team of staff get assigned to work for a Study Director. The advantage of this system is that you get to work with everybody within the department at some stage, and knowledge and experience gets shared widely quickly.
What is it like socially where you work?
There is a healthy social life with almost weekly events. There is also a sports and social team that promote and arrange events throughout the year on a larger scale, from theatre trips, to comedy festivals, beer festivals and even gliding!
What are you most proud of in your career?
I am greatly motivated by positive feedback, whether an award or simple thank you, so all acknowledgments of a 'job well done' I am proud of. These may include feedback from clients regarding conduct of their ADME studies, or praise for the high standard of work throughout the year during the annual appraisal.
What do you think are the most important skills for someone in your role to have?
Communication, communication, communication.
There are so many challenges throughout the working day that you need to be able to communicate 'bad' news to a client just as readily as 'good' news.
However it always helps to present solutions rather than problems, so thinking ahead and making suggestions based upon knowledge and experience is also advantageous.
What one piece of advice would you give to someone seeking a career in the pharmaceutical industry?
Find a role you enjoy, and keep seeking opportunities whenever a new task or project arises. This shows engagement and willingness – the attitudes and behaviours are as important as experience.​
Last modified: 20 September 2023
Last reviewed: 20 September 2023