Pharmaceutical companies are committed to reducing operational waste from their sites, as well as reducing waste from the packaging of products. This can involve increasing recycling, replacing paper-based patient information leaflets with online versions, and increasing the recycled content in packaging.
Reducing waste from packaging is one of the biggest challenges our industry faces, and industry is working to solve it by working with regulators and Governments, and investing in research and new technologies.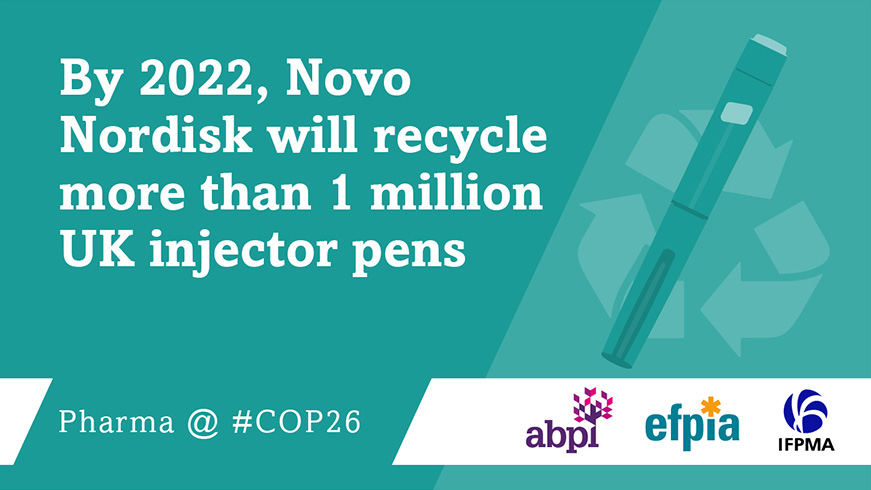 Novo Nordisk 
Novo Nordisk has launched PenCycle, a recycling initiative for pre-filled injector pens, in the UK. The pens are used by people with diabetes, obesity and growth disorders, and the initiative is designed to reduce the number of pens ending up in landfill or incinerated. The pilot scheme runs initially across Greater Manchester, Leicestershire & Rutland, and Greater Glasgow and Clyde, ahead of a planned national roll-out in 2022.
People will be able to recycle their empty pens by either returning them to participating community pharmacies, via pre-paid Royal Mail boxes, or through an 'at home' collection pilot service for people using growth hormone pens. The pens will be returned to Denmark where the plastic will be recycled into a range of items, such as chairs and lamps.
Read more on the Novo Nordisk website
Lundbeck 
At its pharmaceutical production in Denmark, Lundbeck introduced 'cyclic planning', which reduces the use of materials and the amount of waste generated in production.
In their liquid product production, they reduced packaging waste by 83%. This is equivalent to 1.4 million pieces less waste in the form of cartons, labels or leaflets. They are making preparations to introduce cyclic planning solid products too where the reduction potential is even greater.
Read more in EFPIA's 'Circular Economy' White paper.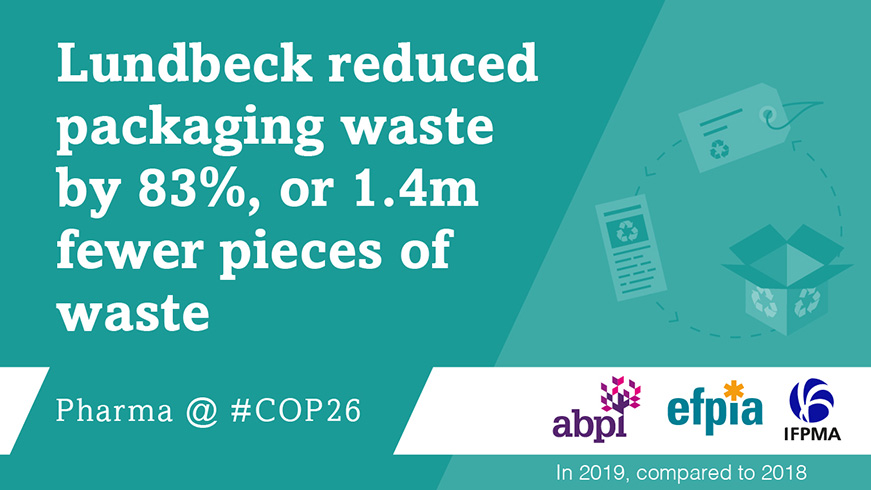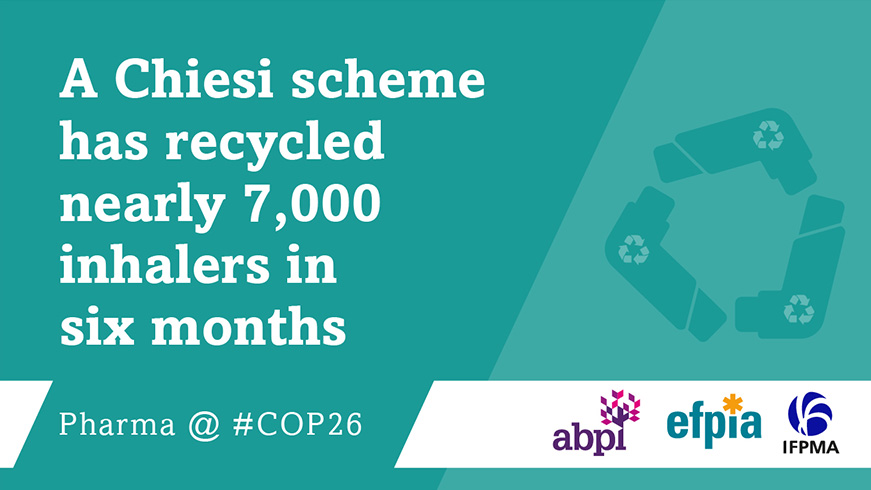 Chiesi 
Chiesi has launched the Take AIR Postal Inhaler Recycling Scheme, a 12-month pilot supported by the University Hospitals of Leicester NHS Trust and Leicestershire and Rutland Local Pharmaceutical Committee (LPC). The scheme is intended to test an alternative method for the disposal of inhalers when the inhalers are empty, out-of-date, or no longer being used. Any inhaler brand or type is accepted.
The postal scheme differs to current community-based pharmaceutical waste collection services, as many of the components are recovered and recycled. Non-recyclable materials are destroyed through a process called energy-from-waste, using high-temperature incineration. Nearly 7,000 inhalers have been diverted from municipal waste and recycled in the first six months of the initiative.