Birmingham Memorandum of Understanding (MoU)
Birmingham Memorandum of Understanding (MoU)
New partnership to tackle Birmingham's biggest health challenges
A new collaboration to tackle the biggest health challenges faced by the West Midlands' six million residents will use real-time clinical trials and health data to speed up research and improve cancer care, maternity services, child health, obesity, and dementia.
Birmingham Health Partners (BHP)* – a strategic alliance of health organisations in the West Midlands – will team up with the Association of the British Pharmaceutical Industry (ABPI) and its members to make Birmingham a world leader in the development of precision medicines tailored to patients based on genetic, environmental, and lifestyle factors.
The collaboration, founded on a Memorandum of Understanding, will create the Birmingham Health Partners & Industry Steering Group (BHPISG). 
Memorandum of Understanding (MoU) between Birmingham Health Partners and ABPI
Enhancing the Life Sciences Ecosystem in the West Midlands
The Government's Life Sciences Vision sets out the ambition to make the UK a leading global hub for life sciences.
The West Midlands is a burgeoning centre of excellence in this sector and is home to world-leading anchor institutions, including universities and research hospitals, led by pre-eminent clinicians and academics.
Combined with a large and diverse patient population, this constitutes an ecosystem where scientific and clinical insights and industry innovation can be rapidly translated into patient benefit and economic growth.
Read the report : Enhancing the Life Sciences Ecosystem in the West Midlands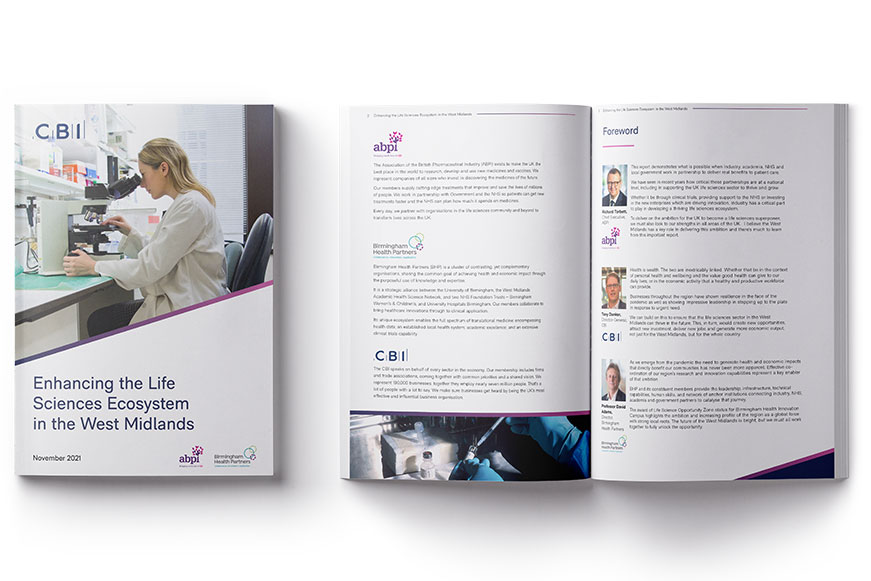 Five core themes
Five core themes have emerged from the research contributing to this report: investment; health inequalities; the pandemic response; leadership and collaboration. In each of these themes, there are areas of excellence and identified systemic barriers.
1. Attracting R&D Investment
Research shows that the level of R&D investment per head in the West Midlands lags behind other areas of the UK, with the average West Midlands resident only receiving £20 per head in government funding, compared to the £60 per head received in London.[1] Despite this disparity in funding from central government, the sector employs over 10,000 people, and is a significant driver of economic growth in the region. However, over a 10-year period, the West Midlands was the only English region which did not see a net increase in employment in the life sciences industry.[2] It is critical that this trend is reversed for the West Midlands life sciences ecosystem to reach its potential.
To do this, the region must attract more public and private R&D investment. To achieve the government's target for total R&D investment to reach 2.4% of GDP by 2027, there needs to be a significant increase in public R&D funding and adoption of policies and incentives to attract significantly more private-sector R&D investment.[3] The government should look to increase regional public R&D funding, while local leaders should explore the barriers to attracting further investment from private companies. By supporting investment from both sources, the government can boost the productivity and knowledge base of the economy, supporting the government's ambitions to level up regions in the UK.
Recommendations
1. As part of the government's 'levelling up' agenda and R&D places strategy, there should be a specific focus on increasing the amount of public R&D funding per head to regions across the UK, including the West Midlands, where there is a key asset in an emerging ecosystem.

2. The Department for Business, Energy and Industrial Strategy (BEIS) should work with local leaders in the West Midlands, to review the barriers that are preventing further public-private investment and develop solutions to overcome these barriers.
2. Health Inequalities and Diversity
The West Midlands has a more diverse population than other regions in England,[4] making it an attractive location to undertake clinical trials. The Marmot Review 10 Years On found that health is getting worse for people living in more deprived districts and regions, and that intersections between socioeconomic status, ethnicity and race intensify inequalities in health for ethnic groups.[5] The West Midlands Life Sciences Sector is at the forefront of addressing health inequalities and encouraging more underrepresented communities to engage with the sector, with organisations including the West Midlands Combined Authority (WMCA) and West Midlands Academic Health Science Network (WMAHSN) among those implementing policies and initiatives to support this.
Addressing the lack of proportionate representation in clinical trials offers the potential to transform treatments to cater to underserved groups. A system-wide approach of public health campaigns, building relationships with local communities and addressing digital health literacy, is required to increase engagement of communities with available services.
Recommendations
3. System partners across the West Midlands should work together to pilot community-based projects to support local healthcare systems in building relationships with underserved communities in the region, considering the specific demography of the West Midlands. In particular, the NHS, academia and industry in the West Midlands should continue to tailor an approach to better engage and communicate with underserved communities, including identifying ways to tackle language, cultural and health literacy barriers.

4. The West Midlands region should further promote opportunities to take part in clinical research through a regional public health campaign developed in collaboration with UK Health Security Agency West Midlands, industry and local universities. The government should also look to invest in initiatives that promote research inclusivity in the West Midlands, not only to improve the health of the local population but also to ensure that future innovations better address health need as a result of being developed across diverse populations.

5. The NHS and public health authorities within the West Midlands should develop accessible and understandable education materials and assets on common health conditions, such as diabetes, to support local community engagement and improve awareness and health literacy amongst patients and the public.
3. COVID-19 response
The West Midlands region experienced particular challenges during the COVID-19 pandemic, with existing deprivation in the region contributing to the high mortality rates;[6] intense pressure on health services;[7] and a significant economic impact.[8] Despite this, the region played a significant role in the pandemic response, including making contributions to the government's ventilator challenge; developing diagnostic tools to detect antibodies; and supporting the trial design for a number of COVID-19 treatments. Going forward, the West Midlands will need to harness lessons from the pandemic to ensure the region remains a competitive ecosystem for life sciences to thrive, including developing the right infrastructure and skills base to tackle the health challenges of the future.
Recommendations
6. The West Midlands region should look to take forward the recommendations from the G7 Therapeutics and Vaccines Clinical Trials Charter and 100 Days Mission, working together with system partners and Government to develop an action plan for the region, this could include:

a. Enabling the rapid review of and use of evidence generated by clinical trials conducted locally, nationally, and internationally to inform healthcare decision-making.
b. Building infrastructure, including data sharing networks and lab space, to rapidly respond to existing and emerging threats, including to allow a rapid set-up, and coordinated delivery of, clinical trials.

7. The region should harness the lessons from the pandemic to develop the right infrastructure and skills base to tackle the health challenges of the future and to build on the national leadership demonstrated by the region during the pandemic.
4. Leadership and Advocacy
Almost one in five healthcare professionals surveyed for this report felt that the strength of the West Midlands life sciences sector is not recognised nationally. All stakeholders, including civic leaders, have a role to play in setting the direction for the ecosystem. There is also a need for the sector to be its own champion and advocate on its own behalf. There are pockets of world leading activity, but these are isolated. There is the potential to do so much more to raise the profile of the West Midlands life sciences ecosystem.
Recommendations
8. Regional political leaders should work with the Confederation of British Industry, Association of the British Pharmaceutical Industry and Birmingham Health Partners to develop a compelling showcase of capabilities and life sciences asset undertaken in the region demonstrating the health, social and economic value generated, aimed at potential investors. As part of this, there should be a conscious effort to develop a clear identity for the West Midlands in the way that the esteem of the 'Golden Triangle' has developed.

9. Leaders at every level should see promoting the life sciences sector as a core aspect of their roles. This requires high-level advocacy through the political process and asset-specific advocacy such as clinical research through Local Clinical Research Networks. Examples of this could include regular 'State of the Region' reports to highlight the work undertaken each year. Additionally, civic leaders, Chambers of Commerce and Local Enterprise Partnerships should commit to promoting the region's strengths through their work.

10. Regional Members of Parliament should engage the Office for Investment to make the case the West Midlands to attract inward investment.

11. Individual institutions' leadership initiatives and development of core strategic targets should be undertaken within a collaborative spirit within the ecosystem to develop shared expertise and provide results more remarkable than the sum of its parts.
5. Collaboration
The vast majority of healthcare professionals in the West Midlands have experience of working with life sciences businesses. The Black Country and Birmingham Integrated Care System's (ICS) culture shift toward long term collaboration provides an opportunity to draw on the findings that 4 in 5 healthcare professionals agree that further collaboration would help bolster the ecosystem. However, a fifth of healthcare professionals spoken to for this report said that they did not have a positive perception of collaboration with the life sciences sector. Those that have not engaged with the sector say it is because they are unaware of the opportunities for collaborative work; because they do not have time to consider partnership working with the sector; or because they participate in partnership working outside of the West Midlands.
These are challenges to overcome. There are examples of excellence, such as the Health Data Research Hubs led out of the region and the Association of the British Pharmaceutical Industry-Birmingham Health Partners Clinical Research Restart and Recovery Resource. To achieve the region's potential, the sector needs to build on these examples and address the challenges identified.
Recommendations
12. Collaboration can be fostered through funding incentives. Regional funding mechanisms should include a condition of collaboration in assessing bids. Weight should be given to a bid's desire and demonstrated ability to collaborate with other organisations.

13. Funding channels from regional and national organisations should be reorientated to incentivise and support collaboration to ensure network development, including potentially through investment in co-located sites, such as the Birmingham Health Innovation Campus, due to open 2023.

14. Stakeholders in the region should facilitate network development to boost relationships in the region, raise awareness of collaboration opportunities and support knowledge sharing.
References:
1. Davenport et al (2020), Levelling Up.
2. OLS, (2021), Bioscience and Health Technology Statistics.
3. Brassel, C. Cookson, G. (2021) Delivering the 2.4 Percent: Unlocking UK Pharma R&D Investment through Evidence-Based Policies, Available from: https://www.ohe.org/publications/delivering-24-percent-unlocking-uk-pharma-rdinvestment-through-evidence-based-policies#. (Date Accessed: 15/11/21).
4. West Midlands Combined Authority (2021), COVID-19 12 months on, Available from: . (Date Accessed: 15/11/21).
5. The Institute of Health Equity (2020), Health Equity in England: The Marmot Review 10 Years on, Available from: https://www.instituteofhealthequity.org/resources-reports/marmot-review-10-years-on
6. The Health Foundation (2021), What geographic inequalities in COVID-19 mortality rates and health can tell us about levelling up, Available from: https://www.health.org.uk/news-and-comment/charts-and-infographics/what-geographic-inequalities-in-covid-19-mortality-rates-can-tell-us-about-levelling-up (Date Accessed: 15/11/21).
7. Health Service Journal (2021), Exclusive: Region could run out of critical care beds in two weeks, Available from: https://www.hsj.co.uk/coronavirus/exclusive-region-could-run-out-of-critical-care-beds-in-two-weeks/7029266.article. (Date Accessed: 15/11/21).
8. Office for National Statistics (2021), GDP, UK regions and countries: April to June 2020, Available from: https://www.ons.gov.uk/economy/grossdomesticproductgdp/bulletins/gdpukregionsandcountries/apriltojune2020. (Date Accessed:15/11/21).