Pharmaceutical companies are using green chemistry principles and changing the way they manufacture products to reduce the total environmental impact of creating medicines. 
This can often mean reduce carbon emissions, saving water and cutting waste all at the same time.
GSK
Making nature easily accessible where we live, work, and play improves mental and physical wellbeing and GSK is committed to achieving net positive biodiversity at all their sites by 2030.
This is part of GSK's goal to have a net positive impact on nature by 2030. At their Stevenage site in the UK, they have already established a baseline of the species and habitats at the site and created a plan to deliver a 39% increase of biodiversity, including grass, wood, and heathlands.
This pilot project will be rolled out, ensuring all GSK sites have measurable and realistic biodiversity plans in place by 2025.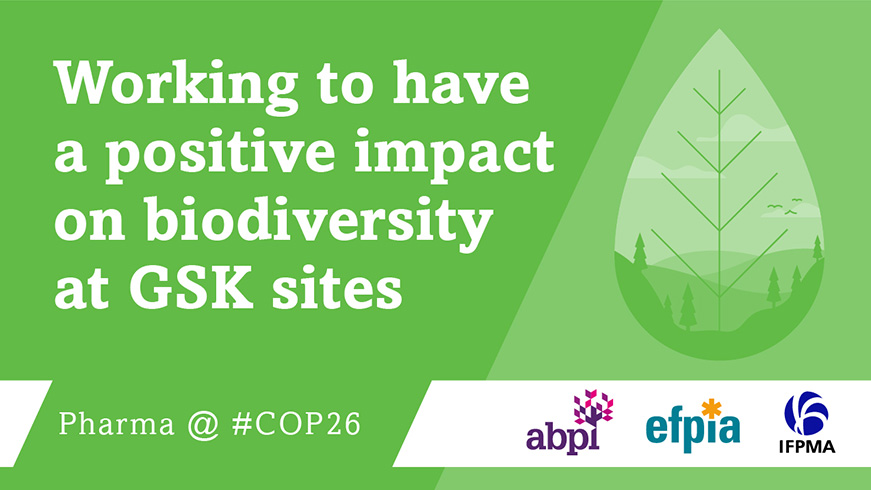 Novartis 
The production of some types of medicine requires solvents and, in several cases, precious metal catalysts with very high greenhouse gas impact.  In most of Novartis's manufacturing facilities they recover, recycle and re-use solvents and catalysts.
For two pilot compounds Novartis was able to demonstrate a recovery rate of 75-85% of two precious metals, with potential savings of 20,000 tons of CO2 by 2030.
The company is also using cutting-edge technologies to reduce the volume of materials required to produce drug substances. These have the potential to save 5 million tons  of CO2 by 2030. 
Takeda
Takeda used green chemistry to create a more environmentally sustainable way to manufacture one of its molecules. 
The new manufacturing process results in 78% less waste, 93% less organic solvent used and 46% less water. Overall yield is increased from 35% to 56%.
Read more on the Takeda website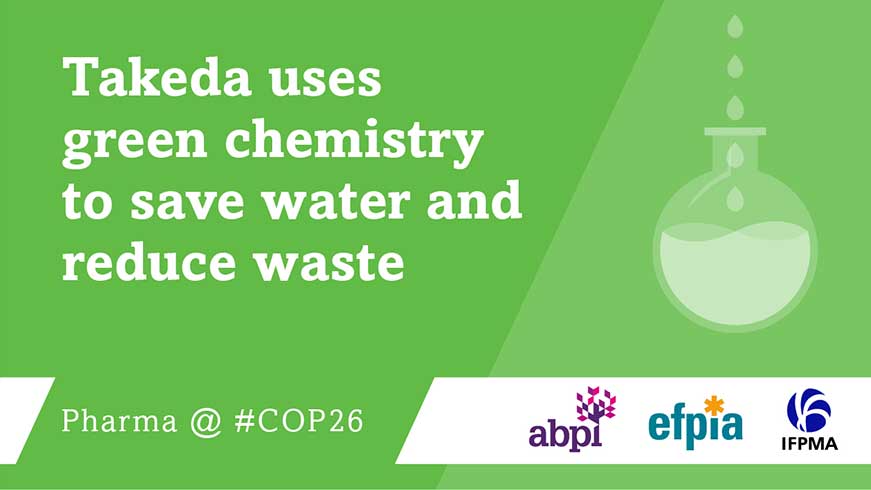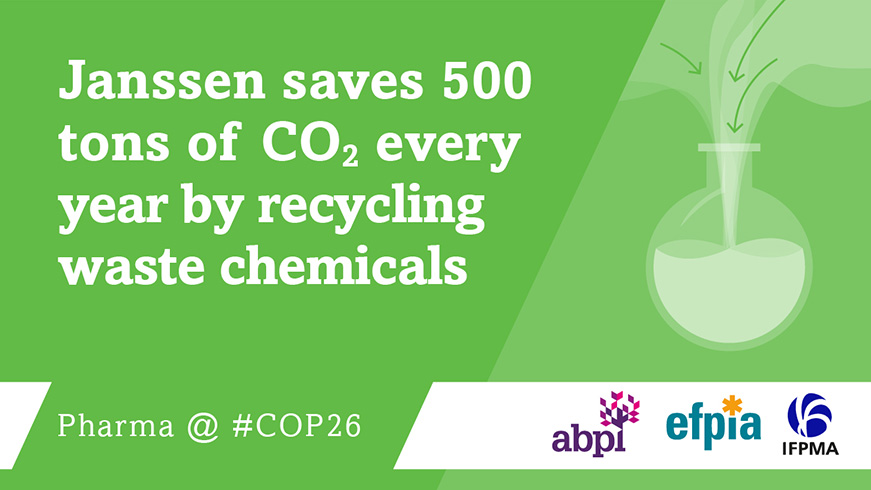 Janssen 
Janssen makes the active ingredients of some medicines at its chemical production site in Geel, Belgium. Their Plant on a Truck initiative recycles waste chemicals. This approach means Janssen saves around 500 tons of CO2 emissions and recycles around 100 tons of chemicals annually.
Plant on a Truck (working with InOpSys) treats process water locally in a mobile purification plant, which allows it to reuse useful materials, destroy toxic ingredients and purify the water. It is currently using this concept to recover zinc from the process water from a drug for type 2 diabetes, for example. 
Read how the company then uses this zinc again in the production process.
Boehringer Ingelheim
Boehringer Ingelheim developed a reusable asthma inhaler that can be used with up to 6 medication cartridges before needing replacement, resulting in large reductions of plastic waste and CO2 emissions.
 It is propellant-free, meaning its CO2 emissions are 20 times lower than those of commonly used pressurized metered-dose inhalers. By 2025, it is expected that 776 tons of plastic waste and 14,300 tons of CO2 emissions will be prevented as a result.
776 tons of plastic waste equals more than 77.6 million 0.5-liter PET plastic bottles.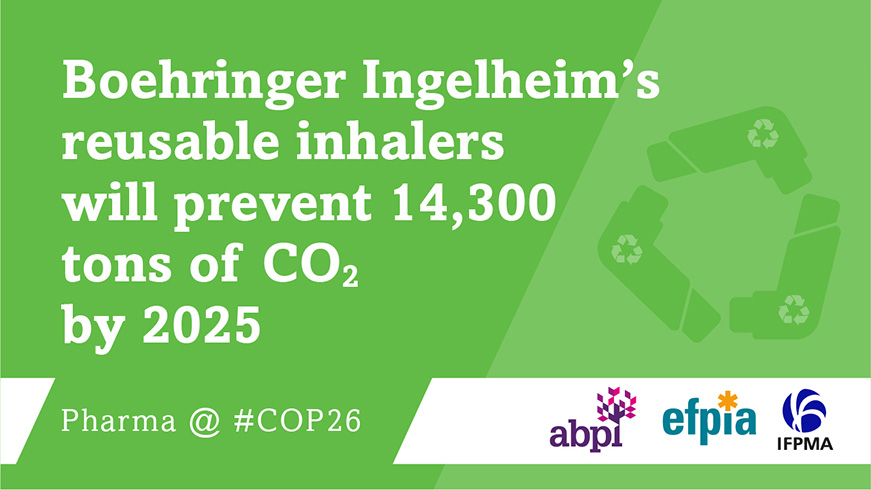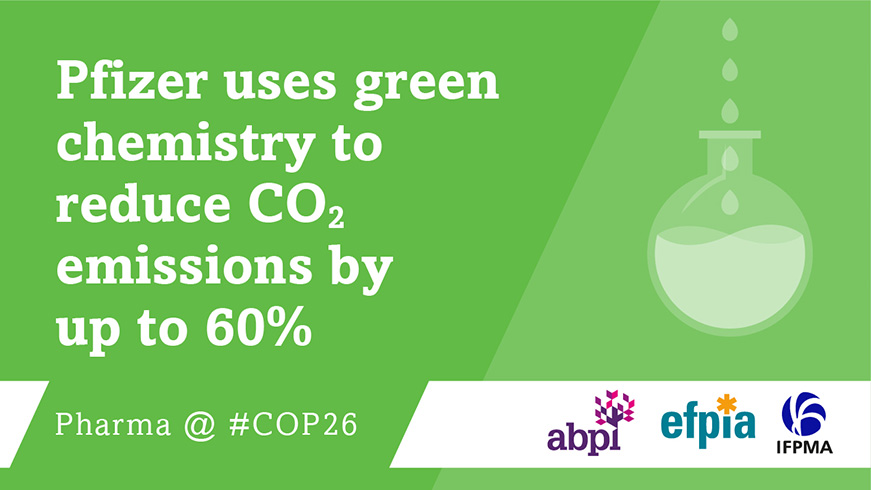 Pfizer 
Pfizer is using more environmentally friendly materials and process to develop and manufacture medicines, thanks to their 'Green Chemistry' programme.
In one recent example, by using 'green chemistry' and swapping out chemicals with a higher environmental impact, they are helping to reduce greenhouse gas emissions by 60% and decrease the amount of material they need to create products by as much as 68%. 
Using lower-impact alternatives is also helping to reduce the amount of water and solvent wasted in production.