Apprentice - Higher Laboratory Scientist
Apprentice - Higher Laboratory Scientist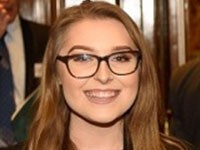 Amy
Higher Laboratory Scientist Apprentice
I work as part of a small team of dedicated scientists within drug product design using spectroscopy to gain a better understanding of the interactions that take place within a drug product between the active ingredient (the drug) and the excipients. Amy
So, what do you do?
I work as part of a small team of dedicated scientists within drug product design using spectroscopy to gain a better understanding of the interactions that take place within a drug product between the active ingredient (the drug) and the excipients. Ultimately my responsibility is to monitor the physical stability of the active ingredient to ensure it does not change at all when in the drug product.
What qualifications did you have when you entered the industry?
Before beginning my apprenticeship I had a level 3 extended forensic science diploma.
What type of apprenticeship are you doing?
I am doing a 5 year higher laboratory scientist apprenticeship; on completion I will have a bachelor's degree in chemistry. 
What does your typical day involve?
A lot of my work involves removing samples from the stability ovens at pre-determined time points and analysing them in the laboratory. This means that every morning whilst I check my emails I check my calendar to see what, if anything, is due for analysis that day. I also make note of any meetings I am due to attend that day so I can make sure I arrange my work plan around those. In tandem to my drug product work I also assist with forensic investigations, providing support across the whole of the site. These investigations are high priority and time critical. It is important I am on alert with my emails to ensure that if a forensic request comes through I am able to make that my top priority and get it done quickly and accurately. 
How has your career developed since you entered the industry? 
Entering the industry as an apprentice really was the time that my career began. I have developed tremendously in the past 2 ½ years and the prospect of how much further I can go in the next 2 ½ years is really exciting to me. I have had the opportunity to network with some truly remarkable scientists and give presentations of my work and my experiences to a whole host of audiences. My confidence to speak publicly and manage my time effectively to plan my own work is constantly growing.
What qualifications are you currently studying for?
I am currently studying for a bachelor's degree in chemistry at the university of Greenwich, Medway.
When did you decide on a career in the pharmaceutical industry?
I feel extremely lucky to have landed in the position I currently I am. When studying my course at college, it soon became clear that I excelled in the chemistry aspects of the course and I loved being in the laboratory. This combined with the fact I didn't want to go to university resulted in me applying for an apprenticeship in the pharmaceutical industry – best thing I have done!
Do you work mostly on your own or as part of team?
I work independently when performing my analysis in the laboratory. However all the work I carry out is as part of a project team. This project team focuses on one particular drug and working together as a team we aim to move the drug through the design phase. We have weekly meetings allowing all members of the team to feedback to one another what we have done that week and to discuss/plan the actions for the following week. Working as part of a team has demonstrated to me how important good communication is for efficient and effective work flow.
What is it like socially where you work?
There really is an amazing social atmosphere both inside and outside of the workplace, not only with the professionals but amongst the apprentices on site too. I am part of a 3 person team that is referred to as the "social committee"; we take it upon ourselves to arrange social events for all the apprentices outside work hours. There has been amazing feedback surrounding the social committee and we have succeeded in ensuring everyone feels involved as part of the community. 
What are you most proud of in your career?
My biggest accomplishment since beginning my career was giving a very personal presentation about my journey and experience as an apprentice. This presentation was in London to an 81 person audience filled with seasoned professionals. I received overwhelmingly positive feedback after my presentation and was described as "outstanding" and "inspirational". 
What possibilities are there for your career in the future?
On completion of my apprenticeship I will be considering whether or not I wish to pursue my academia in the form of a masters or PhD, or whether I would like to enter the industry as an employee. 
What do you think the most important skills are for someone in your role?
I think to be an apprentice the biggest skills are dedication and the willingness to learn. It is not easy juggling university and a full time job. However if you are dedicated and willing to learn then the benefits one reaps from the experience far out-weigh the stress. It really is a case of you receive what you put in with apprenticeships; it's important to seize all the opportunities available to you. 
What one piece of advice would you give to someone seeking a career in the pharmaceutical industry?
I would advise them to do their research and reach out to enquire. The pharmaceutical is a vast and diverse industry. There are so many different areas that make up the industry, some of which may appeal to someone more than others. I think it is wise to have some sort of idea of how the industry works and which part of the process they would like to be involved in.